Ecommerce Marketing Dashboards
A marketer's guide to data-driven insights
The best ecommerce dashboards easily showcase online sales and marketing performance, but with so many platforms generating overwhelming amounts of data, marketing professionals are struggling to keep up with reporting tasks and manual workflows.
An ecommerce dashboard should be designed to showcase Key Performance Indicators (KPIs) over time. Users should quickly diagnose problems and spot opportunities. Using colors and design techniques, a dashboard should highlight what the numbers mean and quantify what is good or bad.
The example ecommerce marketing dashboard below showcases a variety of design elements that you would want to see in an overview. The dashboard is pulling data from different sources such as Shopify, Amazon, social media platforms, and Google Analytics. The KPIs are listed at the top and show how they compare to the prior year (see comparison period filter on the top right). In the left-center section, you can select and compare ecommerce KPIs over time—this will help a user analyze if metrics correlate in performance. On the right-center section, you can see product performance – this aggregates product data from both Amazon and Shopify.
Business intelligence tools like Tableau or Looker allow teams to build the best ecommerce dashboards like this example. Aggregating all the data into one visualization can save teams countless hours and improve sales performance. PenPath offers prebuilt, Proven Dashboards, and Custom Dashboards for our clients to make this process easier.
Best Ecommerce Dashboards Examples
Who needs an Ecommerce Marketing Dashboard?
To avoid confusion, your team should know who is going to be using each dashboard and why. Which metrics matter the most? How does each user plan to use the dashboards? At PenPath, we like to start by looking at the different seniority levels who will use this data and understand the bandwidth they have in terms of doing data exploration and analysis. The less analysis you think someone will do, the less you'll want to make available in their dashboard.
Dashboard Users
Executives will want to measure high-level business metrics such as revenue, returning customers, and average order value over time. Keeping it simple here is key.
Directors will still use business metrics but may be more focused on optimizing holistic marketing metrics, such as overall ad spend across different channels.
Analysts may want to see more granular data, such as which ads are performing best and how engagement is performing on organic social media content compared to the prior year.
How to Develop an Ecommerce Measurement Strategy
When getting started with any data-driven initiative, you must first establish a measurement strategy. This will make the dashboard creation process much easier because you will have a plan to prioritize your team on the metrics that have the greatest impact on your business objectives.
Below is a simple exercise that enables team members to list the metrics they find valuable. Using a similar table like the one below, your team can create a row for each person your the team and list the KPIs and insights they need to follow. Next, list where this data can be found – name the platforms. This is a helpful exercise that can help your marketing team agree on who will use what metrics of success. At PenPath we've developed a two-part workshop called Marketing Measurement Model to establish our client's measurement strategy.
How to get started when building an Ecommerce Marketing Dashboard?
There is a variety of tools that offer a great starting point for any business looking to get started on their data-driven initiatives. For the smaller companies, tools like Google Data Studio, Grow, TapClicks, or Dasharoo offer a low barrier of entry and price point. Just note, that when building a dashboard using a do-it-yourself platform, you may be limited to the number of data sources, visualizations, and calculations they offer.
Established sales and marketing teams should look into using professional-grade business intelligence tools like Tableau or Looker in order to have more flexible data visualization capabilities and fewer technical restrictions.
Ecommerce Dashboard Filters, Breakdowns, and Visualizations
When data has been properly cleaned and modeled, the hard part is done. Now you're able to make data interactive. Cleaning and modeling data is the most challenging part of the process, but there is light at the end of the tunnel.
Assuming your team's data has been cleaned and organized, consider how you'd like to explore it. Well built dashboards have dynamic capabilities such as filters and breakdowns which enable users to pinpoint insights instantly. 
Popular KPIs and Metrics for Ecommerce Dashboards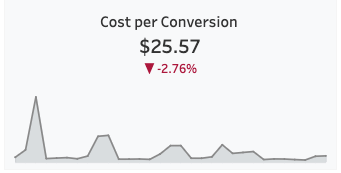 Revenue / Sales
Orders
Repeat Customers
Average Order Value (AOV)
Lifetime Value (LTV)
Conversion Rate
Cost Per Acquisition (CAC)
Total Engagement
Clicks
Click-Through Rate (CTR)
Cost Per Thousand (CPM)
Total Marketing Spend
Bounce Rate
Time on Site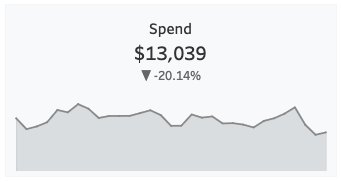 Key Takeaway:
Regardless of your current measurement strategy or dashboards, expect this to be an evolving process. Focus on how answering questions using data that will lead to actions. Actions taken should achieve business objectives—don't lose sight of this and have patience. Even the most advanced marketing teams reassess and change their objectives and KPIs and struggle with their data.
The key to successful ecommerce marketing dashboards is to make better decisions with your data that lead to action. The most successful data-driven marketers can directly correlate how their insights lead to business growth.