\As a content marketing firm we always get questioned why we do content marketing. Content marketing is a mix of hard numbers and long term brand appeal. Not the simplest of things to explain to someone who isn't around the industry.
We think an analogy of relationships and online dating could get the point across a bit better.
If you are a content marketer, this will help you get the message across to your clients. If you are new to content marketing, this help you understand the 4 major reasons you need to invest in content marketing.
---
So you've decided to go ahead and put yourself out there. You set up a dating profile, added a nice picture of you and your dog, and listed a bunch of your favorite things. You're ready to receive some eligible suitors.
A day goes by, then a week, then a month. Nothing. Why aren't people responding? Is it me?
The lack of interest may not be your fault. You're great! You just need to communicate how great and interesting you are in a way that will differentiate yourself from a sea of singles.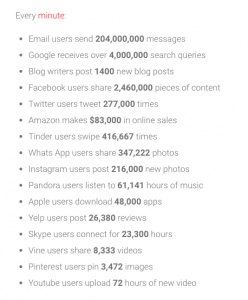 The same is true for content marketing. Nowadays the internet is over-saturated with content. Thus, the challenge for all content marketers is how to break through the noise and get their content noticed. This, however, is much easier said than done.
You (or your client) must have a clear purpose for your content. This will fuel and motivate you to make this epic journey. Content marketing takes time to pay off, but when it does, it can yield compounding returns.
Here are the 4 pillars of content marketing — the reasons you MUST invest your resources in this in 2016.
1) Awareness
If people don't know about you, you don't exist. If they constantly see your brand's name, they will. Brand awareness is making a first impression. It's the first date.
If you deliver value through content marketing, your customer relationships will progress. Simply promoting your brand to increase awareness isn't enough. You are likely aware of crappy brands, but they're still crappy. Don't stop at awareness!
2) Trust
Let's say your customer is aware of you. Now what? You have to show them you're worth their precious time. But how do you do this? Like any awkward first date, you need to say something interesting.
How you say it is just as important as what you say. Keep your customer in mind when making content and write what they care about, not what you want to tell them.
3) Authority
You are now in your customer's inner circle. We might go all the way!
This is when your customer asks, "What can I do for you?"
And you respond, "Oh hey! I happen to have this pretty sweet product I think you might like…"
This, my friend, is where the magic happens.
All that work you put into this relationship has finally turned into a sale! You are now the brand they think of rather than the other folks who call themselves "nice."
4) Loyalty
When you make that first sale, maintain trust and authority.
Continue providing quality content and set your anchors deep, because I hear wedding bells – a repeat customer!
But, But, But….
So, you don't know how you will do this at scale? Try this: DON'T.
Small companies can do this on a one-on-one scale. You don't need to do this at scale right now because you're getting your bearings. Worry about growing your business later.
Reasonable content marketers understand it starts with one customer. Know what they like and build a feel for how you'll need to take them through the pillars. If you need to do this at scale, that's a good problem to have. Worry about scale then. The second step is repurposing your content and being smart about how you create it so that you can distribute the content in multiple channels.
So again, have a first impression (awareness). Make that impression a good one (trust). Continue making great impressions and leaving them with a good feeling inside (authority). Lastly, deliver your product and maintain the relationship (loyalty).