It has been well-established that a company, no matter how big or small, cannot become a trusted authority in their industry without a blog. But what constitutes a "good" blog? Is it just a matter of personal taste?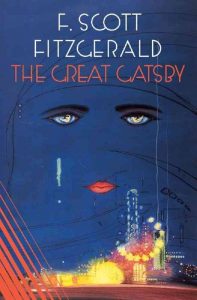 To a certain extent, blogs are kind of like books – some people love them, some hate them. But there are some classics that seem to resonate with the majority of readers: The Great Gatsby, Great Expectations, Moby Dick, Pride and Prejudice. It's no coincidence that these classics are still popular today. They all follow certain rules and guidelines of storytelling that have proven to work time and again.
Likewise, blogs can follow unsaid guidelines that help bloggers attract (and keep) their target audience. In this blog post, we will break down those rules so that you can apply them to your blog.
Post Consistency
Blogging consistently cannot be undervalued. If your favorite show went off the air and then came back suddenly with little to no promotion, you would be less likely to start watching again. Whether it's every day, every week, or even every month, make sure your followers know when they can expect your next post.
TIP: Create topics you would like to cover in a blog and then make an editorial calendar with times you will publish your content. Don't try to get perfect blog posts at first, just make sure you are getting into the habit of publishing. Bulk write a few at a time if you don't have the flexibility to write consistently.
Eye-catching headlines
You can't get people to read your blog posts without catching their attention first. In many ways, your headline is just as important (if not more so) than the actual body of your blog post. An informative and interest-peaking headline grabs the reader's attention and hopefully, hopefully, they will deem it interesting enough to start reading.
We live in a scroll-happy world. People are constantly looking for the next best bit of information so if your headline can't get people's attention in about a second, you need to re-evaluate how you write your headlines.
TIP: Secondary headlines inside your blog are great for people who skim — you must lead sections of your post with these other headlines. This will also give you a solid boost in SEO value.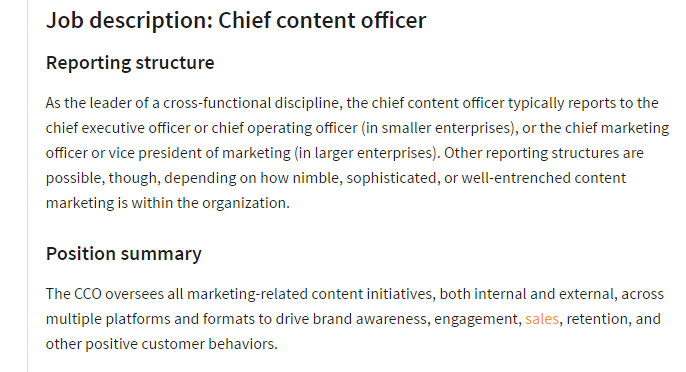 Layout
Unlike books, blogs have an infinite amount of layout options. So many options can be daunting. Regardless, what you need to focus on is ease of use. It needs to be aesthetically pleasing, but not so busy that it detracts from your text. This aspect of a blog, however, is probably the most reliant on personal taste. We all know what a "bad" blog looks like (think 90's HTML style), but if you want to know what a "good" blog looks like, it will vary greatly from person to person.
Style and tone of voice
Whether you are writing for a company or writing for yourself, you need to be acutely aware of the style and tone you want to convey. A large company may want a more professional tone of voice while a personal blog can take more liberties with grammar and style. Whatever your objective, make sure your writing style reflects the brand you are representing. It's okay to be yourself!
Now that we've established some key aspects of writing and designing a blog, here's a breakdown of some of the most popular content marketing blogs and whether or not they follow these guidelines.
---
BREAKDOWN: TOP PERSONAL BRAND CONTENT MARKETING BLOGS
Post Consistency: About every day. A+
Headlines: Informative and specific. B+
Layout: Very long posts requires a lot of scrolling, but he uses a good amount of blank space and pictures to break up the intimidatingly long posts. B
Tone of voice: Conversational with a bit of "flowery" language here and there. B
Our Humble Opinions:
"It's hard for me to actually read his posts. I find myself more so looking at the pictures and the bold headings. He does have some good advice about helpful tools and websites (includes links in the posts, which makes it easier to navigate). Also, the constant calls to action (get my cheat sheet, subscribe, etc.) is a bit over-kill. Basically I just see a bunch of self-promotion, which, for me, creates a sense of distrust." – Caroline
"I find myself actually reading the first few paragraphs and then the post is so lengthy that I wind up skimming, scrolling, and jumping to the conclusion. If you don't have time to read his lengthy articles, jumping to the conclusions or comments section can help filter the most important parts or useful tools. The ads within the blog posts are distracting and I would much prefer if they were only used on the side of the post, because it is confusing when I'm reading and think an image is going to supplement the reading material, but it turns out to just be an ad." – Victoria
"I like how he breaks up the text. It makes me get in to the article by just reading a 'bite size' more. Before I know it I'm committed to the article. I walk away feeling like I need to go back to that blog to read more at some point. I also like how clean it is. A lot of quiet space lets me just look at the content. I agree that the calls to action are just everywhere. I personally would want to have one on the side that's sticky, at the end of the article and another on the menu." – Alex
---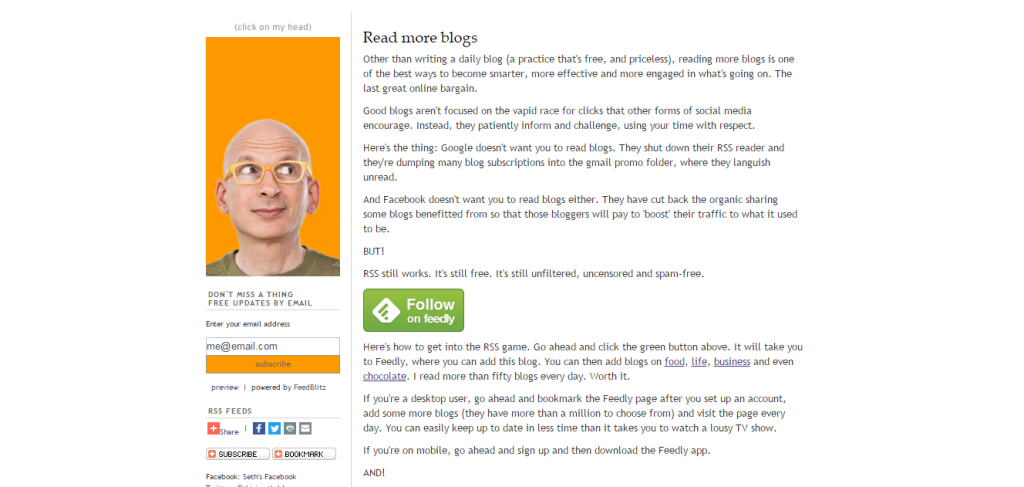 Post Consistency: Posts every day. A+
Headlines: Short, sometimes single word headings that peak interest. (i.e. "Boring"). A
Layout: Short, consecutive posts with not much flare (e.g. practically no pictures). B+
Tone of Voice: Narrative, personal writing style. A
Our Humble Opinions:
"I like his writing style (I can see why he is a best-seller). It starts out with a simple question or short sentence that peaks my interest. Also, the fact that I can see the end of the post without having to scroll down makes me more likely to read the entire post. However, the font and overall layout is not very visually pleasing, but that may be intentional as this makes the actual content stand out more. Overall, it's an inspirational and fun blog, but it doesn't have a lot of how-to insight on content marketing, it's more theoretical." – Caroline
"His blogging style is more of a journal, which I absolutely love. As a journal-er, I value the passion that it takes to journal/blog so frequently. He is not confined to a certain style or format, which is one reason I love poetry. Some of his posts are even more like poems than blog posts. I agree with Caroline that the visual aspect of his blog could be more appealing (bigger font would be nice, some images?)." – Victoria
"Beautiful writing style. His purpose is probably to explain overlooked things well. While this is an amazing approach, it's not as actionable as other blogs. Unless you can write that well with that sort of thought, it's better to write posts that outline how to do things better in detail." – Alex
---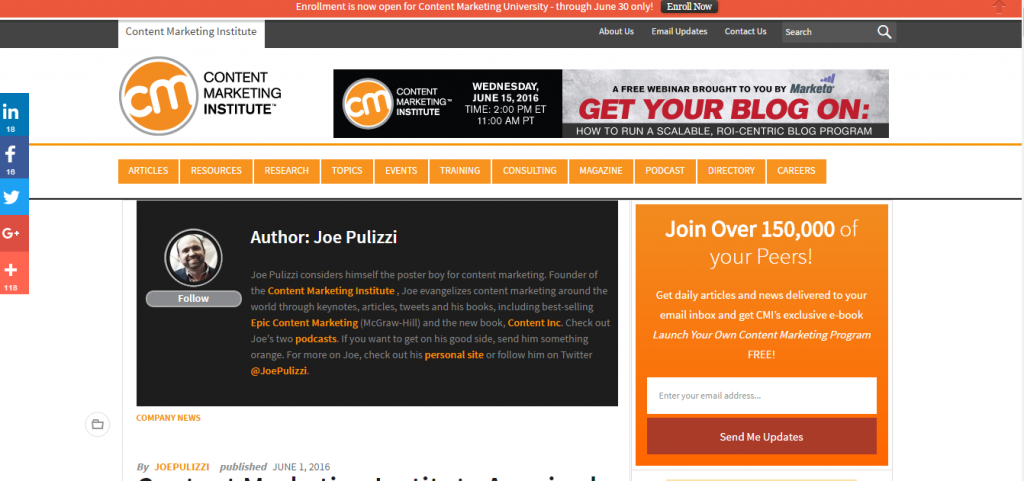 Post Consistency: Posts about once a week. A
Headlines: Short and to-the-point (mostly re-purposing his podcast episodes). B
Layout: Customized photos attract interest while bold headings break up longer posts. A
Tone of Voice: Like his headlines, his tone of voice is concise and to-the-point (much like a newspaper). B+
Our Humble Opinions:
"I LOVE the variety of media (pictures, audio, video, etc.). Honestly, when it comes to the internet, I like to watch more than I like to read. For instance, I get all of my product reviews, and most of my news, from YouTube. I also love podcasts. Podcasts are so great for multitasking, so I can listen to a content marketing interview or discussion while I work on something else. Two birds with one stone! I don't really like that you have to click on a link to read the entire blog post. Overall, like the blog, but wish it would be more separated from CMI." – Caroline
"Everything is so orange! I battle with heavy branding like this because on the one hand, when you think CMI, you think orange! Sometimes it can make it difficult to separate content within the blog, though. Every image is orange or has an orange overlay. I really like that there is a podcast for each blog post so you can choose your method of intake. I'm kind of opposite of Caroline and tend to lean towards reading rather than listening, since I struggle to multitask. Not really struggle, more like find completely impossible." – Victoria
"Brilliant use of re-purposing. I immediately wanted to subscribe to their blog. I don't really mind the orange as much since the back has a lot of white. It has new information on changes happening on social media. If you are trying to target marketers, that is one of the most important things you can do. You must stay sharp in the industry. I love the time code of the podcast displayed on the blog too." – Alex
---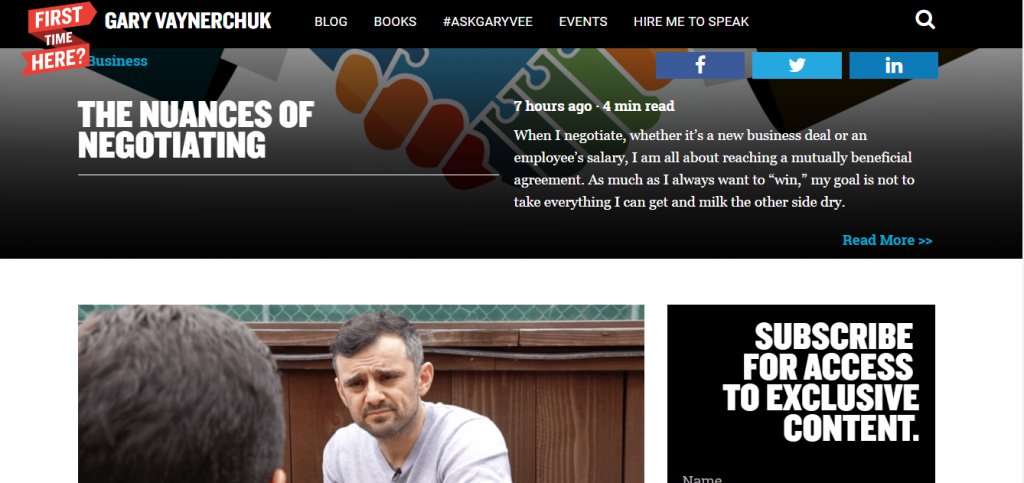 Post Consistency: On average a few times a week. A
Headlines: Interest-peaking and unique (i.e. not the usual "10 Things I Hate About You" style). A+
Layout: Large type and frequent use of photos/graphics are pleasing to the eye. A
Tone of Voice: Very informal and focused on himself. B-
Our Humble Opinions:
"I love the layout and variety of photos and graphics. However, somewhat similar to Neil Patel, the overall theme seems to be "Self-Promotion! Self-Promotion! Self-Promotion!" which I find to be off-putting. I (the consumer) want to be the center of attention. Content marketing is all about the value you provide to consumer, not what the consumer can do for you. But, you can't deny his success." – Caroline
"I like the layout with an image, bold text, and the # of minutes it will take you to read the article. I agree with Caroline on the self promotion aspect, because there is certainly no shortage of HIM. His personality on video & podcast is abrasive and I could do without the cursing, but that's personal preference. I enjoy his books and podcasts because you can limit the abrasive side of him. Answering questions that people ask is a genius marketing move, since you know you have an audience." – Victoria
"Really not too much wrong with his blog. Sounds like he has some pretty good content. I enjoy his style while I respect that others don't. I like how he has a 'first time here' at the top right that pulls up a video of him." – Alex
---
BREAKDOWN: TOP COMPANY CONTENT MARKETING BLOGS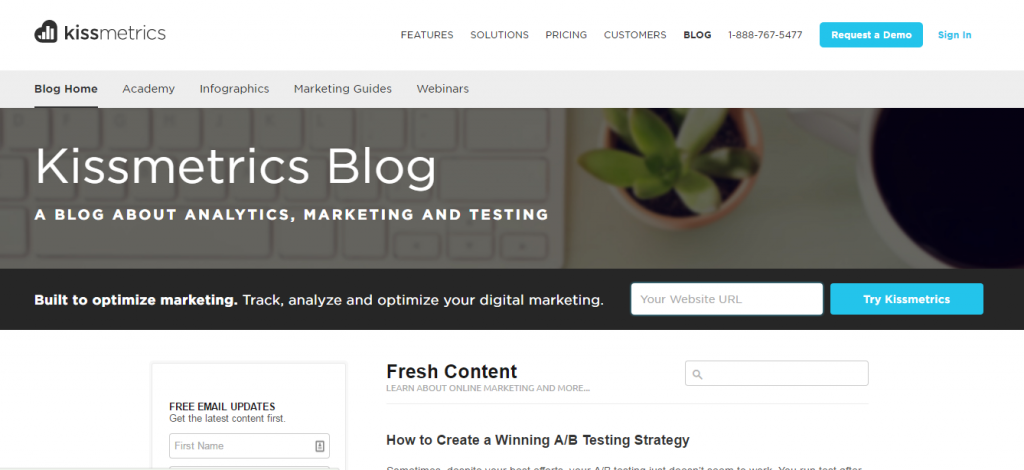 Post Consistency: No dates are posted on each blog post. It would be helpful to know when something is posted so you know how up-to-date it is. F
Headlines: Mostly "How To's" B
Layout: Hardly any photos or graphics on the home page, but good use of pictures, graphics, and gifs within a blog post. B-
Tone of Voice: Writing style is easy to read and consistent throughout. A
Our Humble Opinions:
"Other than the fact that I think they have a weird name (it sounds like some sort of dating site), they have a solid blog. However, their blog posts tend to be very long not so much because they go into a ton of depth and detail, but because they try to talk about a lot of things at once. I love that they provide marketing guides (on a wide variety of topics), but I am unwilling to provide my cell number to get it. Overall, so-so blog." – Caroline
"The businessy layout of the blog does not appeal to me as a creative person. The blog posts and layout seem uninspired and lack passion, hooks, or striking visuals. There is no personality or personal touch to the blog posts that I examined. Dry graphs, example product images, and formally written. This blog may appeal to more analytical or numbers driven individuals. There are also no captions on the images and no enlarged text boxes or important quotes. The subheadings are the only bold text, so skimming the articles does not allow you to gather much information." – Victoria
"Great content. They take other sources and make their own infographics and credit their sources at the bottom. A brilliant way to re-purpose content. I like the balance of copy and pictures. It's broken up very well." – Alex
---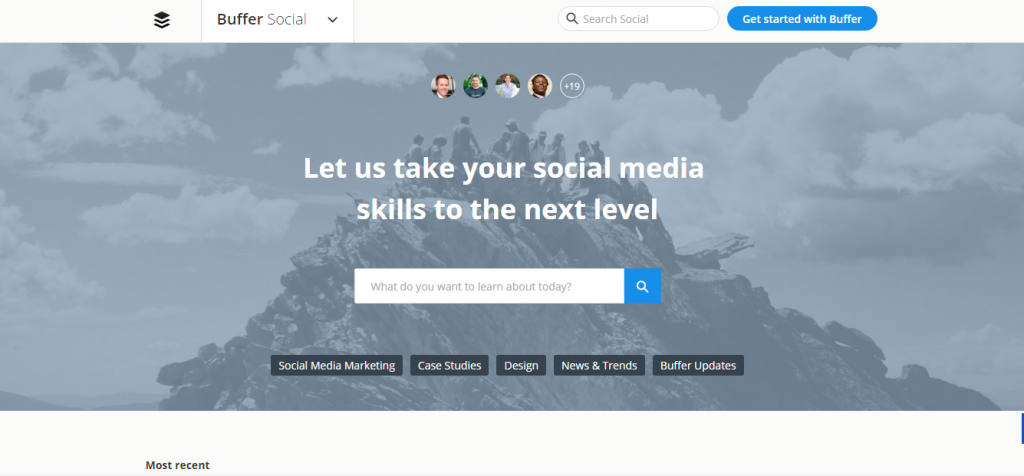 Post Consistency: Multiple times a week. A+
Headlines: Descriptive and are tailored to what their readers want to learn. A
Layout: Beautiful use of pictures and categorizing posts makes it easy to find your topic of choice. A+
Tone of Voice: Conversational yet professional. A
Our Humble Opinions:
"Buffer's blog posts are amazingly helpful, insightful, and easy to read. They are so knowledgeable about everything content marketing (not just social media) that it makes me want to use their product. I love the new added 'Search Social' and 'What Do You Want to Learn Today' features!" – Caroline
"The layout is visually easy to read and the text is web-friendly and appropriately spaced. They stay up-to-date with social media changes – this is so important in the social media and digital realm, because if you want to be an authority, you have to be the first to alert people of these changes. I like the variety of posts – news, evergreen, people to follow on social channels, how-to's. They also use visuals to convey their message effectively." – Victoria
"Good, clean pictures to describe good content. Really not much more to say. They do this well. I like how they put the title over the featured image. Saves space." – Alex
---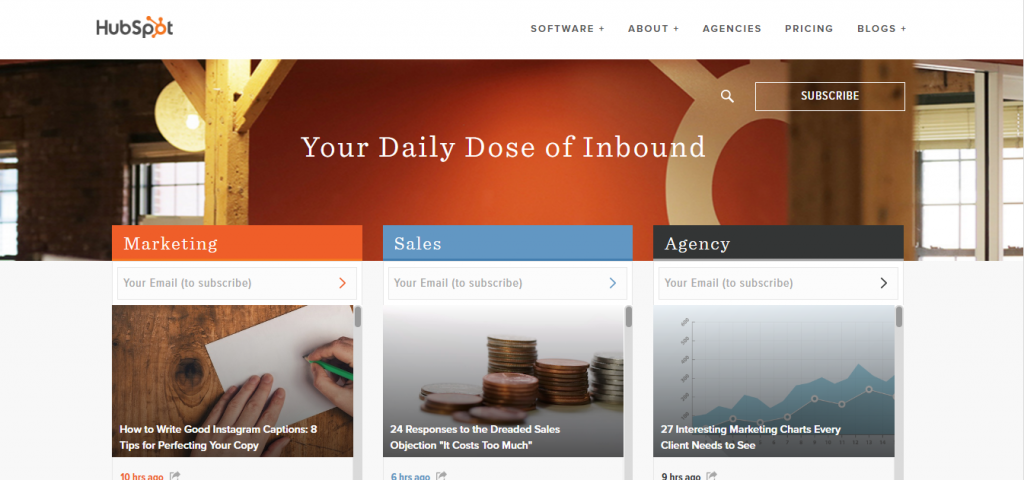 Post Consistency: Posts multiple times a day! A+
Headlines: A little too formulaic (i.e. _ Number of Ways, or How To). B
Layout: Good use of screenshots and pictures to break up longer posts. A
Tone of Voice: More conversational and informal, yet informative. A
Our Humble Opinions:
"Great blog overall. They seem to be very knowledgeable on a wide array of topics while providing good resources for content marketers. However, if you subscribe to their blog, your email inbox will be flooded with emails (eventually I had to unsubscribe)." – Caroline
"They post a lot!! I like the Pinterest-esque layout and categorization, which you can enter your email to receive notifications for just one category (marketing, sales & agency). The content on the blog is well-researched and written with their audience in mind. I don't tend to subscribe to blogs, but would definitely add this to my resources list." – Victoria
"Layout is very clear. Pretty clean and interesting how they have those three pillars. Call to action at the bottom of their blog posts. I like that. Content is of good quality, which we could really benefit from." – Alex
---
Takeaway
So, there is a bit of leeway when it comes to blogging, but following these rules will help you attract your target audience. Not everyone will love your blog, but that's okay! As long as you know who you are writing for and you stay true to yourself and your brand, you can write a successful blog post.